Juvul is knee deep in two as of yet secret collaborations. This means that not much time is available for telePort/MIDIum or the upcoming game Cathode – using the same technology. Here however is a preview video of the in-house level editor used for the game, which does in fact relate to everything else.
telePort 0.9.2.1 is now available for download, fixing the three only known issues!


These past six months however have primarily been spent creating a mobile game using/refining the upcoming framework which will eventually lead to telePort 1.0 and MIDIum as well.


Much more about that later… for now, Happy New year!


telePort 0.9.2 is now available for download!
The launch video shows besides telePort and telePort Control for the first time more than a little sneak peak into the development of New MIDIum. What are you waiting for, have a look!


….and, off course telePort Control is already available to buy on iTunes. Go ahead, support the development of telePort and MIDIum!
During this summer a few telePort jams inspired the need for a couple of extra features for this version. They are now all done and includes:
-a MIDI Input Utility that lets you virtually change MIDI Channel and merge several small controllers into one. Great for tiny (travel) setups!
-Poly pressure Input Type
-Computer keyboard Input Types (Both individual keys, and the numeric range)
-Program Change Support: Both for Hardware Instruments and Hardware Insert Effects.
-A couple of tiny enhancements and "smart features"
And, as the headline says the telePort manual is now done!
This version is also completely JAVA free, meaning especially Mac OSX Yosemite users will be happy.
All in all, this now truly looks like the final version of telePort 0.9.2 and a launch video will be coming soon!
Until then… here is a screenshot from the new version of MIDIum – also coming along nicely.
What more fitting in this dark time to have the mascot TV Cat illuminated by pages of the manual? That's 256 dynamic real-time light sources for you…! Wishing you all a great winter solstice/celebration of light/christmas!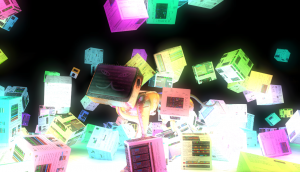 The telePort Beta and telePort Control has both been updated fixing quite a few little things. It seems for this version, there might be nothing left to fix!
So while waiting for the manual here's a little recent Jam Medley improvised by dubbilan, Ctrls and Rune Abro (quite dark and melodic downtempo/ambient). Enjoy!
The beta of telePort has been updated again and quite a few things have been further optimized propelled by user feedback.
This time also with a fully illustrated Tutorial Section in what is starting to look like a honest User Guide.

Note: you can not use your old User-Setup folder with this update! Almost certain to be the last time that will happen!

There is just one planned internal optimization left and then a Reference Section for the User Guide before the beta period will end! It has been decided that the Introductory price for telePort Control will last as long as the beta period 🙂

Here is a picture from the pretty Tutorial: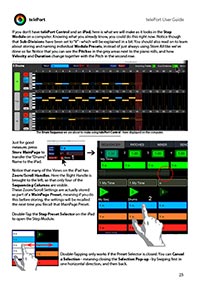 ….and, telePort Control is now available to buy on iTunes! An Universal App for both iPad, iPhone and iPod Touch.

Here's a thorough live demonstration/performance, taking you through 3 "tracks" in seamless telePort fashion.


The beta links have also been updated with the beginning of an actual User Guide. Enough to get a general overview, connect telePort with telePort Control plus software/hardware instruments, and play them directly using MIDI keyboards. For more you will just have to pay close attention to this video or watch some of the old video tutorials on youtube.

Juvul will be back will a full documentation together with telePort 0.9.2 (no beta) after a short forced vacation!
telePort Control has finally been submitted to the App Store and will have an introductory price of just 2.99 USD.
Details will follow about when it will be available…
The beta of telePort has been updated and will most likely be the final for this version – excluding the manual which will be coming soon!

To celebrate here is a fun picture showing all the different views in telePort Control!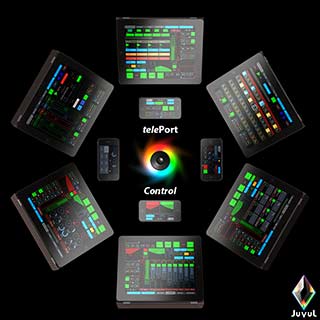 With only a few weeks until the App gets submitted to App Store here is a demo showcasing the previously undisclosed iPhone version of the telePort Control App. It is indeed an universal App although on the iPhone it has a different focus.
That focus led to this video, the first ever demonstration of telePort as a live looping system. Enjoy!
The new prototype version of telePort along with its companion iPad app is coming very soon!
Already the beta is so functional that it has now replaced the download link

You can read the massive and almost complete Changelog here. and please report if you experience any problems.

This is above all also made as a compatability test. The final release will this time come with documentation as well!